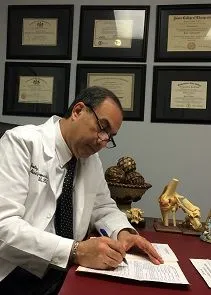 Dr. Abdol Ghayoumi, DC
Dr. Ghayoumi, better known as "Dr. G" to his patients, has treated the people of South Central Kentucky since 1987, providing them with the quality compassionate care that only an experienced Chiropractor can provide. He graduated from Palmer College of Chiropractic in Davenport, IA after earning a BS in Biology with a minor in Chemistry from Bridgewater State University in Bridgewater, MA. While at Palmer he also developed and taught Clinical Research Conference and is a published contributor to the American Chiropractic Journal on the topic of fibromyalgia. He has taught continuing education classes to the American Bar Association on the AMA Guide for Impairment Rating and is a popular guest speaker for various organizations and schools in and around Bowling Green.

Dr. Ghayoumi has been active in his community; he has been the Rotarian of the Year, has served as Human Rights Commissioner and has also served on the Board of the Refugee Center in Bowling Green. He is a regular contributor to various charities including BRASS. He facilitated the donation of an x-ray unit to the Children's Hospital in Kenya, Africa.

Bowling Green Chiropractic is committed, first and foremost, to providing excellent care to the people of South Central Kentucky. Dr. Ghayoumi has enjoyed success in treating conditions such as fibromyalgia, sciatica, tendonitis, bursitis, whiplash, sprain injuries, migraine headaches, disc lesions and more. He is frequently recommended by obstetricians to safely treat pain and discomfort resulting from pregnancy. He treats patients of all ages with gentle chiropractic care, providing a non-invasive alternative to surgery and drugs.
Since becoming a Chiropractor, Dr. G has kept up to date with many continuing education classes, ensuring that his patients receive the most comprehensive care. His hobbies include travel, cooking, the outdoors and the butchering of cliches.